Why Work With an Attorney Instead of Using Online Forms?
July 15, 2022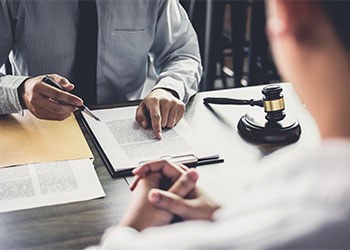 In this digital age, there is an infinite number of online forms you can use to do all kinds of things. Although forms from the internet may be suitable for your income taxes, applying for a loan, or completing a survey, they leave much to be desired if you are creating an estate plan.
You would expect an estate planning attorney to tell you that it is better to work with an attorney than rely on completing online forms for your will, power of attorney, and other estate planning documents. What you may not expect is that this attorney will tell you why that is true.
At The Law Offices of Kenneth W. Drake, Inc., I have helped hundreds of clients in Woodland Hills, California, and throughout the San Fernando Valley, including Ventura, Santa Barbara, and Los Angeles counties, craft estate plans that serve them and their loved ones when they are needed.
Estate planning is all about who gets to make the decisions about your health, death, assets, and debts. If you execute all the necessary documents to express your wishes, you make these decisions. If you do not, the court will make them for you.
If you are putting off creating an estate plan because you are overwhelmed by the decision-making process, there is a solution. I will guide you through the process, answer your questions, make sure you understand the implications of your decisions and give you all the information you need to make the best choices for you.
Five Reasons to Work With an Estate Planning Attorney Over Online Forms
1. Your attorney will ensure that your plan adheres to California law.
Most online estate planning form providers will tell you that the forms are state-specific. The fact is that although at some time they may reflect a specific state law or two, the forms are, by and large, the same regardless of the state you live in. Moreover, laws change. An estate planning attorney licensed to practice law in your state will keep current with state laws. An online form provider will not. If you want to be confident that your estate planning documents comply with California law, work with me.
2. One change changes everything.
In most cases, if you need to make a change to a document, you will need to start that document all over again with your online provider. That also means you will pay for a new form every time you make a change.
In addition, making one change on one document may necessitate changes to other documents. Estate planning documents that differ between one another or contradict each other will essentially be invalidated by the court and the judge will decide what happens. An estate planning attorney understands how revisions affect your entire plan. There is significant value in knowing your attorney has a comprehensive view of your estate plan that an online provider simply cannot.
3. You benefit from legal counsel and advice.
There are instructions accompanying those online forms, but how often have you read instructions and are still unsure of how to respond? When you work with an estate planning attorney, you will get an informed response to every question you have. Your attorney will know what documents you need to achieve your estate planning goals and what content each needs to have. As a bonus, I can provide guidance regarding taxes as they relate to your estate plan. You will not have any of these benefits with an online form.
4. Attorneys are there should a dispute arise.
If there is a dispute about your intent or should a challenge to your estate plan arise when you are gone, all the court has to work with is a form that is printed, signed, and presented as valid. Those in dispute will contend they knew your intent, and since they all have an interest in your estate, the court will not count on the veracity of their suppositions. The court will, however, trust the information and insight provided by your attorney who not only has firsthand knowledge of your intent but also reaps no benefit from your estate.
5. Your documents are safeguarded.
If your estate planning documents are lost after you become incapacitated or die, what happens? In that case, the court will proceed as if you never executed a will or any estate planning document. Your estate will be probated, and heirs will inherit according to intestate succession laws. However, if you work with an estate planning attorney, copies of your documents will remain in secure and confidential files. This protection of extra copies is a significant advantage to using an attorney over online forms.
Skilled & Compassionate Counsel
I hope these reasons have convinced you of the wiser decision you should make in the estate planning attorney vs. online template debate. The investment you make in working with me will reap dividends when your plan is needed.
If you are ready to begin your estate plan in Woodland Hills, California, or anywhere in the San Fernando Valley, call The Law Offices of Kenneth W. Drake, Inc. I also help clients resolve various estate planning matters and have the necessary skills to handle litigation when necessary.